Copenhagen is a friendly multicultural hub for all the Nordics. The city is planned as a biking city and many people compare Copenhagen to Amsterdam though they are totally different. There are many many things to do in Copenhagen and we decided to build our own interactive map to help guide those who are out for some adventures
If you have limited time and wonder what is quincentennial to what makes Denmark, Denmark. Go place to experience all that is Tivoli Gardens. See this post: "If I Only Had Time For One Thing"
Interactive Map – open on your mobile phone
The Interactive map has a variety of information that can be used to guide you to a personalized experience. To begin there are 2 walking routes called the Orange Route and the Green Route both can begin and end at either the Little Mermaid and/or Copenhagen Head Station
Since Copenhagen is a relatively small city it is possible to walk through these routes in under 3 hours at a quick pace if necessary. If walking is frowned upon please see the section on transport in the city.
Finally, the green route suggests taking a harbor bus as an alternative way to see the beautiful Copenhagen Architecture at the cost of a public transit ticket.
Harbor Swimming
Copenhagen has a very clean harbor and most people enjoy taking a swim in the harbor. DON'T BE SHY… On the interactive map, there is a map layer called "Hop in the Harbor" showcasing some common spots you are recommended to swim.
Many people wake up early and walk/jog/bike along the harbor and hop in the water. Feel free to do the same.
There is an app that you can download that gives information about bathing in the harbor and that can be found here: Ny app til alle os, der elsker Københavns Havn – By & Havn (byoghavn.dk). Once downloaded the language can be changed in the orange hamburger to the right under "sprog"
Eating Out
There is also a layer of restaurants that we find interesting with good food. There are many great places to eat in Copenhagen and we have tried to gather some choices for everyone.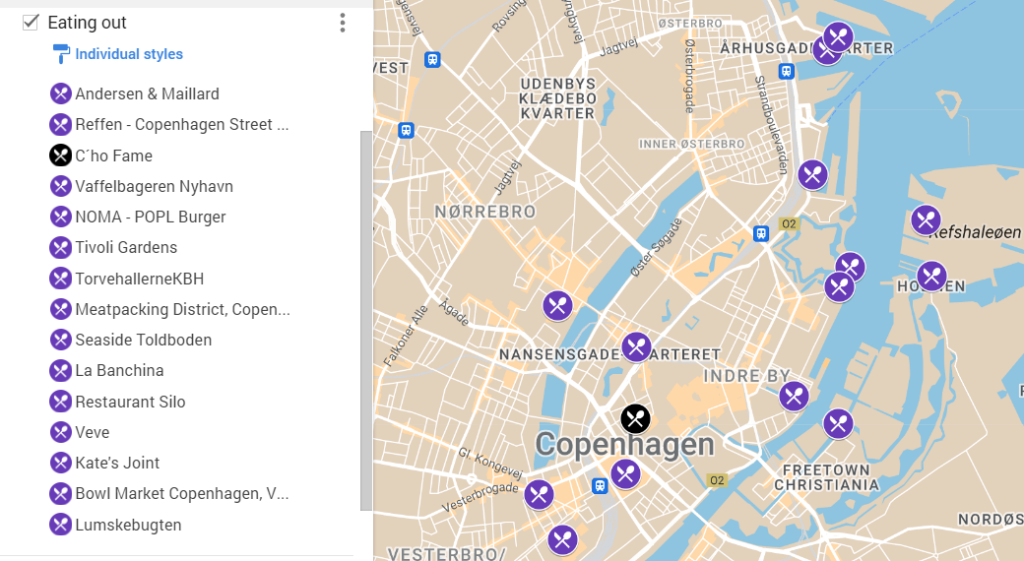 There is one marked in black and that is my personal favourite pizza shop in Copenhagen called C´ho Fame. It is a small place so best or book a table if you want to go.
Things I Would Do
Walking Nyhavn + Canal Tour
Strøget – Shopping Street – Orange Walking Tour
Little Mermaid – Orange or green walking tour
**I will just mention here that many people are surprised by how little the Little Mermaid actually is in real life. If you take a canal tour they offer a decent view from the boat.
Getting Around
Copenhagen is a biking city and it is said that Copenhageners own over 750,000 bikes. Copenhagen was the starting point for the Tour De France in 2022 and Danes are proud of Jonas Vingegaard, the 2022 -23 Tour De France Winner0
Renting a Bike
You can join Copenhagen in biking by renting a bicycle. Most people use a service called Donkey Republic:
https://www.donkey.bike/cities/bike-rental-copenhagen
Public Transport
Copenhagen has excellent public transport:
Metro:
S-train (red trains):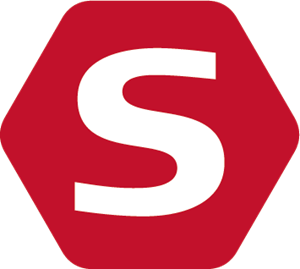 Yellow Buses both the harbor water buses and standard yellow buses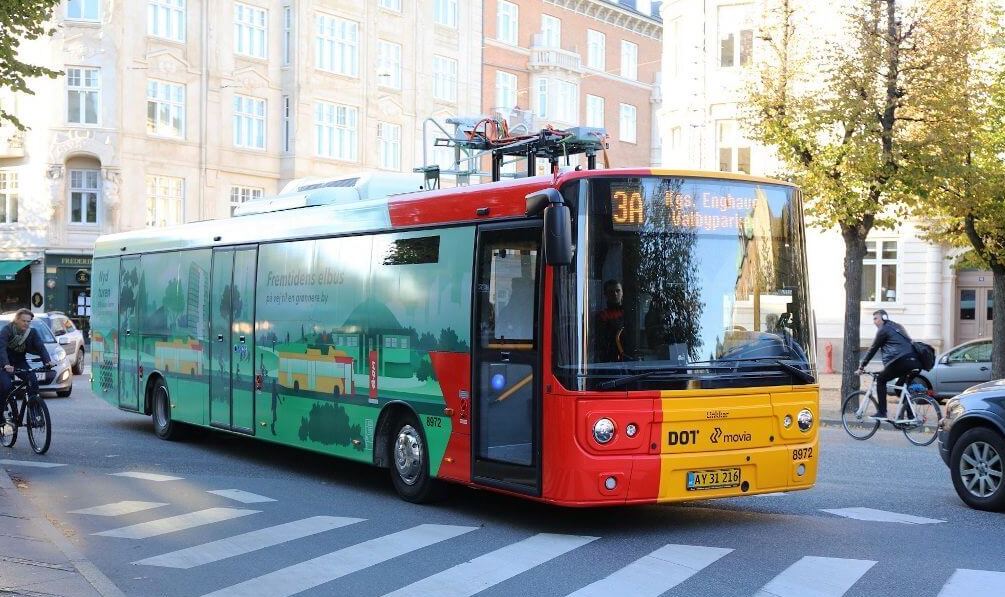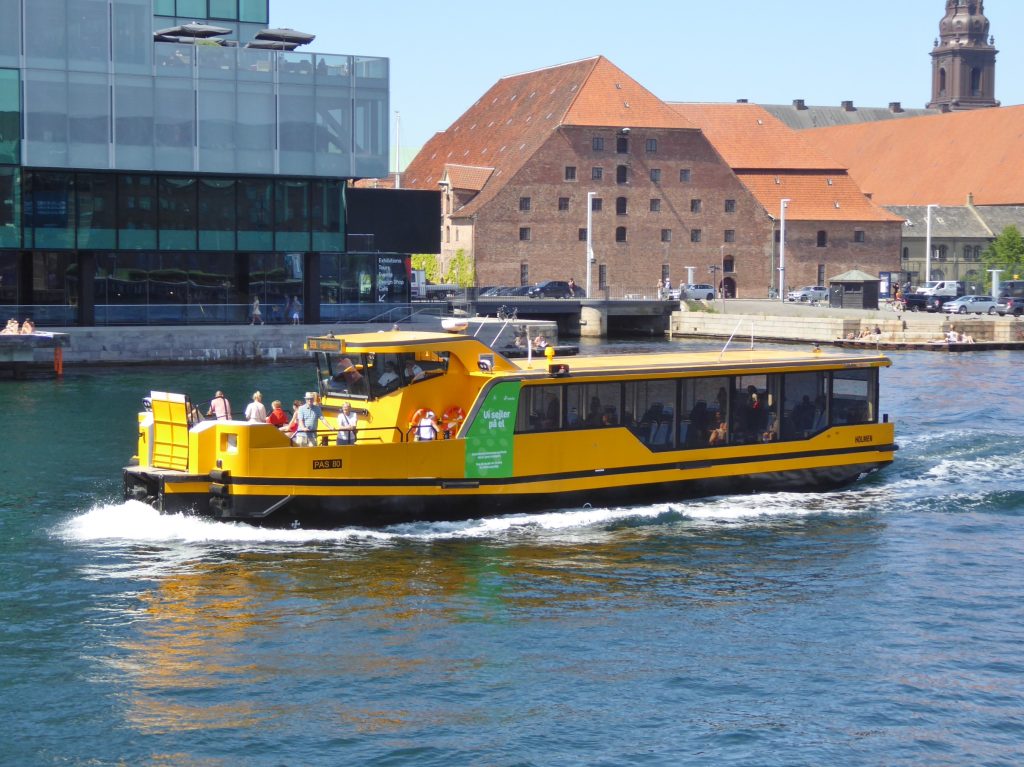 These can all be used interchangeably with a travel ticket. The Metro is the fastest if a station is nearby. Copenhagen is split up into zones and prices vary depending on which zones you travel to.
The official site for public transport and where you can purchase tickets is DOT. They have City Passes from 1 day to 5 days and the price varies. City Pass and unless you will travel outside of the Copenhagen area then you should purchase: City Pass Small covers Copenhagen + the trip from the airport to the City of Copenhagen (zones 1-4)
Airport
The Copenhagen airport is about 12 minutes from the center of town. Many people take the Copenhagen Metro from the airport has the fastest way into town. Once you walk out of customs the Metro is straight ahead upstairs after passing the SAS check-in counters.
It is also possible to take a taxi. Just go right immediately after you come through customs and they will be waiting for you. There is no UBER in Copenhagen.